Provides Ventilation and greatly improved Strength
VentBoard™ has intregal ventilation that exceeds the 1/150 standard in a typical configuration.  Additionally, tests on a prototype model indicates an increase of bending stress of 10 times the equivilant thickness of OSB or Plywood.
Versatile in Materials and Configuration
VentBoard™ can be constructed from Plywood or OSB. Each layer can be of varying thickness depending on application and strength requirements. Layers construction and thickness can reflect the need for roof sheathing, wall siding or flooring applications. The interior matrix can be manufactured most commonly from wood, but recycled extruded plastics could also be used.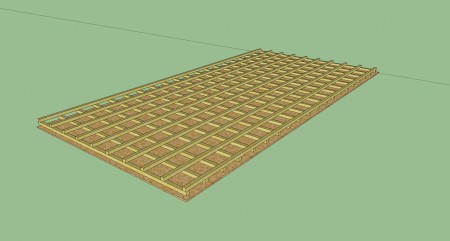 OSB VentBoard™ without top panel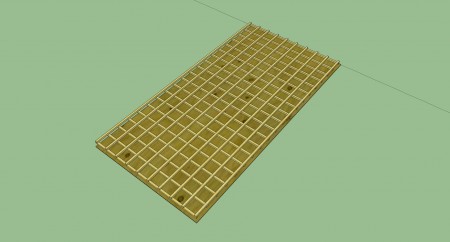 Plywood VentBoard™ without top panel
TWO MAJOR TYPES:
Solid sheet VentBoard™ is ideally suitable for roofing applications where living space is adjacent to the roof structure such as the second story of a cape home.
Perforated VentBoard™ (ventilated sheathing) is suitable for unfinished attic spaces.

View from under a perforated VentBoard™ panel – Note the 48″ oc rafter spacing.
Additionally, DuctBoard™ is available as a variation of VentBoard for floor sheathing.
Saves Money and Extends the Life of Materials
VentBoard™ can save $2,500 or more on an average house because it's much stronger than regular sheathing and can easily span 48 inches or more.  That equates to $50 per roofing sheet on a typical home.
In a typical configuration, VentBoard™ exceeds ASHRAE and IRC 1/150 ventilation requirements.
VentBoard™ can save the homeowner on heating costs and life cycle costs of their home by ensuring long life span of roofing materials and siding.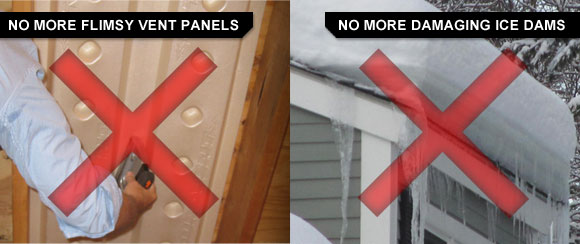 Facilitates Code Compliance
VentBoard™ is the simple solution for meeting code requirements for ventilation in attics and walls.
High Profit Margin Opportunity
VentBoard™ panels are easily constructed and utilized in the industry. They provide significant savings to both builder and homeowner in up-front construction costs, as well as in long term savings by reducing energy costs and extending the life of exterior roofing and siding materials.
These up-front savings represent an average of at least $2,500 for an average home in initial construction cost savings, allowing a significant profit margin opportunity for the manufacturer.  That equates to $50 per roofing sheet on a typical home.
Easy to manufacture in existing plants using existing machinery.
The various VentBoard™ panels can be easily constructed in existing plants without special machinery or re-tooling.
All details and claims are purposely NOT disclosed in this web site.  The intention of the web site is to convey the basic product and variations.